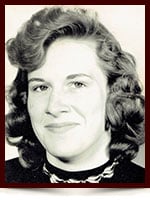 Jessie Ida Werner (nee Pollitt)
Jessie Ida Werner
April 26, 1943 – January 27, 2016
Jessie Ida Werner (nee Pollitt), 72, of Stony Plain, Alberta passed away on January 27, 2016 of cancer.
Jessie was born on April 26, 1943 in Kingston, Ontario to Ella and Edward Pollitt. She was the second of three children. She moved to Alberta in 1943 as an infant when the family decided to returned to Alberta. She spent her formative years growing up in southern Alberta. Jessie worked as cook for most of her life, which allowed her travel to unique and beautiful locations within Canada, including Resolute Bay. She spent the last years of her life in retirement on her acreage where she loved watching the birds flutter by her window and tending to her large garden. She enjoyed refurbishing furniture, redecorating, and knitting. She will be remembered as a strong independent woman who had wonderful sense of humour, a keen intellect, and powerful capacity to love.
Left behind to remember her are her children, Kevin (Leah) Werner, Sandra (Gerald Bakewell) Werner, and Jan Werner. Each has their own special memories of her, but all will remember her exceptional baking skills, especially her delicious homemade bread. She will be sadly missed by her grandchildren: Lucas Werner and Cole Werner; Sateen Werner, Dustin Werner, Troy Bakewell, Sheldon Bakewell, Shaun Bakewell, and Shane Bakewell; and Cyd Werner and Cyrus Werner. She will be greatly missed by her older sister, Shirley Chyzowski, and younger brother, Edward Pollitt III. She was predeceased by her loving son Randal Werner in 1985. She will be lovingly remembered and immensely missed by all that knew and loved her.
If you like to send your condolences to the family, please send an email to santam64@yahoo.com. If you wish, donations may be made to a charity of your choice.
The family would like to thank Dr. Voldeng and the staff of St. Joseph's Auxiliary Hospital for the their excellent care, support, and compassion.