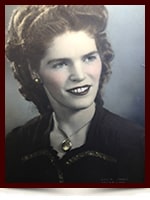 Joan Frances Everett
It is with deep sadness we announce the passing of Joan Frances Everett on Saturday, September 14, 2013.  She was 92 years old.
She was born to George and Maude Everett (nee Andrews) in North Sydney, Nova Scotia on July 12, 1921.  The family moved to Morinville, Alberta about 7 years later.
Joan is pre-deceased by her mother and father, her husband John (Jack) William George Shumard in 1951, her son Ronald James Everett Shumard in 1977, her brothers Robert, Sidney, and Jack, her sisters Myrtle and Josephine, and her 2nd husband Ernest Ludwig.  Also her grandson Daniel Shane Freeland passed away in 2007.
Joan is survived by her brother George Everett, her sisters Barbara Everett, Patricia Brygger, Marjorie Hope and Mona Roberts, her daughter Sharon Shumard, grandchildren Sandra Klick, Robert Brandt, Jackie Eaton, Cheryl Robillard, Sheila Shumard Tham and Angie Possberg along with numerous great grandchildren and one great great grandson as well as numerous nieces and nephews.
Joan had a marvelous sense of humour.  Many memories are of laughing so hard we cried and sometimes almost fell off the couch and couldn't breathe!
She had a brilliant mind and many of the family had 3 hours or more telephone conversations discussing the multitude of topics she was interested in, including a vast knowledge of historical figures throughout the centuries, and the lives past and present of film and stage stars, as well as current events.  Her ever present companion was the radio where she gleaned a lot of her information, along with the extensive library she had in her home and of course the television.
Joan was a very hard worker and very conscientious at any job she undertook.  She decorated any place she lived with flair, and did a marvelous job on the embroidery, crocheting and knitting which she taught herself to do.
She was meticulous in her dress, never having a spot of lint on her coat or a speck of dirt on her many beautiful high heeled shoes, in which she still could run across the street and down the sidewalk even when she was 80+ years old to catch her bus downtown.  She loved riding the bus and talking to strangers everywhere she went.
She was a very unique and special person, and we all loved her and will miss her tremendously.