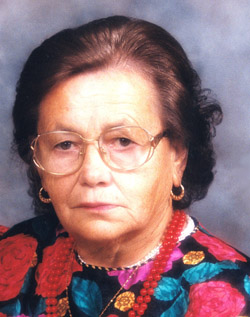 Joanne Szukalow
May 16, 1928
-
December 15, 2022
On Thursday, December 15, 2022, Joanne Szukalow born in Rudenka, Poland passed away peacefully at the age of 94.
She will be dearly missed and remembered by her daughter, Mary, son-in-law, lhor, grandsons, Danylo and Andriyko. She is also survived by two brothers (Genek and Ivan) and sister (Mary) and
numerous nieces and nephews both in Poland and in Canada.
Joanne was predeceased by her husband Ivan, brothers, Michael, Joseph, Roman and sister Genia.
Many thanks to the staff at St. Michael's Extended Care Centre where she received exceptional care during her time there and prior to her passing. Donations can be made to St. Michael's Extended Care Centre Society.
Prayer Service (Wednesday, December 21, 2022 @ 6:30 pm)
Funeral Service (Thursday, December 22, 2022 @ 10 am)
Burial to follow at St. Michael's Cemetery, 13819 82 St NW, Edmonton, AB)
Both events will be held at St Josaphat's Ukrainian Catholic Cathedral (10825 97 St NW, Edmonton, AB).