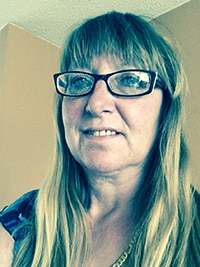 Jodi Lynn Hutchinson
December 28, 1964 – December 19, 2018  
Jodi passed away in her sleep, at home in Edmonton, AB, where she spent the majority of her life. She was 53 years old and 9 days short of her 54 th birthday.
She is survived by her long-time partner Maurice Lequire, her parents Vaughn and Jeannette Hutchinson, and Rudy Prediger, daughter Nikki Rae Joveski, son-in-law Lydon, grandson Isaac, sister Cheryl Tremblay, nephew Cory Dublanko (Janine) with their children Joshua and Kiera as well as many friends and relatives.
Jodi is predeceased by her sisters Karen and Teresa Hutchinson and her brother Marty Prediger.
A Celebration of Jodi's Life will be held on Thursday, December 27, 2018 at 2:00 pm at the Alberta Beach 50 + Club (red building behind the hotel), in Alberta Beach.