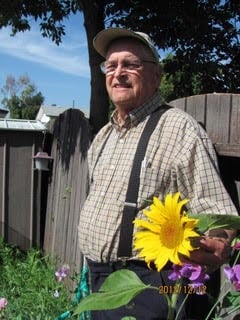 Joe Meyers (aka Zinselmeyer)
March 26, 1934 – April 18, 2019
The "News" of Joe's passing can now be broadcast. Joe left us peacefully after a short stay at the Royal Alexandra hospital, following complications of a form of dementia. As a man who loved to talk and in radio broadcasting for 35 years, losing his ability to communicate was hard to endure.
Born in Fairview, Alberta, Joe began working as a reporter for The Post, a local newspaper. He moved into radio at CKYL in Peace River, then onward to CFCW in Camrose, CKRD in Red Deer, CKRC in Winnipeg, and on and off at CJCA where he continued to the end of his career in Edmonton.
In 1962, Joe left Canada and sailed to New Zealand, where he married Mert and became a father of two children. When they returned to Canada, a third child was born in 1967 at the Royal Alex. The family settled in Fort Saskatchewan for 13 years then Joe and Mert moved back to Edmonton.
Joe was not only a respected newsman, he was also an accomplished piano, organ and guitar player. The sound of him playing the electric piano will be dearly missed. In his youth, he was a noteworthy hockey and baseball player in the Peace Country and his love of hockey never waned throughout his lifetime.
Joe is survived by his wife of 57 years, his eldest daughter Kelly and youngest daughter Diana. He was predeceased by his only son Mark (2013), brother Bernie (2017) and his parents Joe Sr. and Anna (nee Doll). He will also be greatly missed by his dear friend and past co-worker Bill Douglas, who maintained regular contact with Joe.
Joe was a loyal husband and doting father. He made us laugh! But most of all, he loved unconditionally and was an unfailing provider for his family. He demonstrated a strong work ethic, kindness, compassion, a love of animals and a tremendous sense of humour. The family and all the pups will miss him. We hope he has found peace and comfort in meeting up with his son, old friends and dear family members in the heavens.
As per Joe's wishes, his body was cremated and there will be no funeral. A gathering of friends and colleagues may be organized in the near future after the family has had time to grieve and plan.
To My Dad
Wanting to write the words down and sound poetic n stuff. But don't know even where to begin because it'll never be enough.
You were the smartest man I ever knew, and boy I tried to match that brain but realized those people are few.
You did some pretty cool things in your life, quietly and without a fuss, but were always there as my Dad and family man, how can I judge that or explain it thus?
You trusted me. You loved me. You said I was the best. At anything I tried, you never paid attention to the rest.
You got me through the stress, the strife and grief…you were always there no matter when I was in the reefs.
Your music lasted longer than it muddled in mind, you'd sit down and play, and our thoughts were in kind.
Oh Poppa, I'll miss you, your patience and strength,
beyond expected, you were so modest, a Saint.
Always there and willing to give and provide, and so I was there with you, my sadness denied.
And when you decided to leave, all was okay, I told you to go, and the love it will stay.
So go be with your loves, of past and beyond, I'll love you forever, my Father, my bond.
-DeeDee