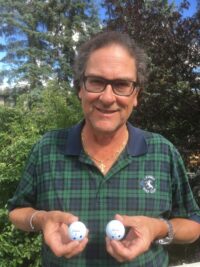 John Gerald McCutcheon
April 24, 1953
-
July 2, 2021
I was given a dire diagnosis which was a result of an unknown etiology.  I began to go downhill rapidly and I passed away at age 68.  I regret more than anything, the leaving of my beloved wife, Bernadine, far too soon.  Please dear, be strong and continue to mentor our family.  I have always been so very proud of my children - my son James, daughter Andrea and her husband Lance.  Carry on and be confident in whatever you do going forward.  I had the privilege of being "Grandpa" to two terrific young men, Logan and Linkin.  Sorry we missed that game of golf.  Thanks to my close friends who stood by me through our sporting, social and travel endeavours.  And in passing…a call out to the casual acquaintances that crossed my path and kept me entertained.  I have enjoyed, I would do it all again!
          "Life is pleasant.  Death is peaceful.  It's the transition that is troublesome."  
           Isaac Asimov   
Many years ago, John and Bernie had a discussion on whether to bank dollars or bank memories.  That decision led to numerous golf trips abroad and the United States.  It was their way of celebrating Birthdays, Anniversaries and Christmas. He was always planning golf trips to Scotland, Ireland, Pebble Beach, Pinehurst, Nova Scotia/ PEI, Arizona and Jasper.  The "Mountain Classic" golf tournament would have celebrated 35 years in 2021. He was "The Committee".   His profession was Dentistry, his winter pastime was curling but his passion was golf.  His 15 minutes of fame was accomplishing (2) "Hole in Ones" in the same round of golf on June 28, 2018.  He has gone to join colleagues and friends that have preceded him – Randy, Pat, Ken, Howie, Steff and his surrogate father, Gerry.
John would want you to celebrate his life and all the good times that you have shared.  So…raise a glass of rum & coke, Guinness or a Single Malt Scotch.
There will be no funeral.  A Celebration of Life will be later this year.  If you feel so inclined, support the Junior Golf Program or a charity of your choice.