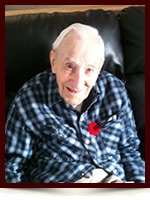 John Leonard Schroeder
December 20, 1918 – March 3, 2013
It is with deepest sadness that we announce the peaceful passing of John Schroeder at the age of 94 years, after a long and fulfilling life.
He is greatly missed and fondly remembered by his sister June (Wilbert) and his five children; Marie (David), Leigh (Bud), Carol (Torben), Leonard (Grace) and Doug (Myrna). Six grandchildren; Anne, Alison (Bruce), Leslie (Chris), David (Melissa), Sarah (Terry) and Shane. Eleven great-granchildren; Meghan (Colin), Paige (Brent), Michael, Jason, Eric, Paige, David, Gillian, Ian, Alexander and Claire. Four great-great grandchildren; Brant, Jason, Flynn and Katelyn.
John was predeceased by his wife Dorothy; daughter Lorna; brothers Laddie, Nick and Hugh, and sisters Winnie and Ruby.
Special thanks to the residents and staff at the Allen Gray Lodge of Edmonton where John resided and enjoyed the last year of his life.
Funeral Service
Monday March 11, 2013 at 1:00PM
Royal Canadian Legion #059 in Stettler
5010–51 Street Stettler, AB
Memorial Donations
Gadsby Omega Circle care of Paulette Heer
PO Box 11 Gadsby AB T0C 1K0