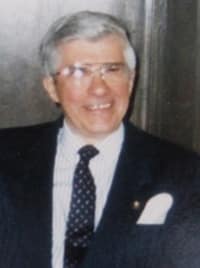 John Michael Lacusta
February 25, 1929 – January 22, 2018.
John passed away peacefully after a stroke, eight years ago, left him in the care of a wonderful staff at Touchmark in Edmonton. John leaves us to join his loving wife, Joyce, who passed away June 15, 2016. John was a devoted father to Michael (Younes), Carolyn (Jim) and cherished grandfather to Ryan and Brett.
A genuine, kind man who served others in his role as head waiter, catering manager with CN hotels; director of government services at Government House, Alberta; Kiwanis Club and church member; John will be remembered for his warm smile, contagious laughter and love of spending time with family and friends, especially when this meant re-uniting in the maritimes.
A family celebration on Prince Edward Island will see both John and Joyce return to their beloved island and the "green, green grass of home".
In lieu of flowers, donations to the Heart and Stroke Foundation of Canada (www.heartandstroke.ca) are appreciated.