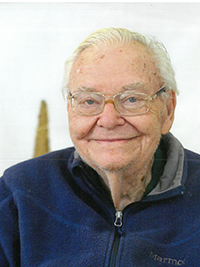 John Randal Wozny
John Randal Wozny went to his rest after 88 years of confounding, annoying, delighting and inspiring his family, friends, neighbors, coworkers, colleagues, and students.
His parents were emigres from Poland and Ukraine. John Wozny played flute and piccolo in the air force band in the 1950s. His undergraduate degrees were in Psychology, Philosophy, and Biology.  In collaboration with Fred Wolfe, he researched and reported on the effects of DDT and the additives that caused population crashes in birds across North America.  He moved to Edmonton to study Systems Theory with Professor Ludwig von Bertalanffy at the University of Alberta. Later, he was selected for the University's ground-breaking Think Tank project, along with Joseph Royce and many other distinguished members of the University community. He counted Guy Lefrançois among his best friends.
For over a decade, John Wozny was the psychologist responsible for student assessments in a school district of La Pas, Manitoba that included many First Nations students. He was honored for his efforts on their behalf. During this time, he helped a generation of young people receive proper assessments and life-changing scholarships.
On 29 June of 2016, John Wozny was honored by Guy Lefrançois and the University of Alberta for his lifetime of contributions to the academic community. 
An avid outdoorsman, John loved camping, fishing, hunting, and simply being out in nature.  He also attended museum events, concerts and operas.  An amateur botanist with a green thumb, he was notorious for his habits of accumulating and propagating plants, including hemlock, in case he ever decided to emulate Socrates. (He didn't.). He also made a point of feeding the local bird populations through the long Canadian winters. 
John Wozny is survived by his daughter, Christina; a granddaughter, Adela Paige Moore; and a grandson.  He was deeply loved, and shall be deeply missed.