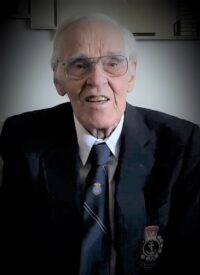 John Richard Tyler
May 12, 1928
-
July 21, 2021
It pains me to admit it but, apparently, I have passed away. Everyone told me it would happen one day but that's simply not something I wanted to hear, much less experience. Seems I didn't get my way …
On July 21st 2021, after a journey of a few days, John had arrived at the water's edge. With one foot on shore and the other on the deck of the boat (or, as he always corrected, 'the ship') he took one last lingering look back over a life that had been long and well lived …
It was a dark and stormy night - what a great way for a story to start (and John loved to tell stories) - and it was the way many great sailing adventures have begun. However, although John would have loved his tale to start this way, it was actually a lovely spring day In Lashburn, Saskatchewan on the 12th of May 1928 when he made his first appearance ... just in time for dinner!!
Beginning life as a farm boy John spent his first years with no electricity, a coal fire for heating and no indoor plumbing!!, definitely makes a man who can deal with almost anything. Filling days with numerous friends and with family always around he learned to love life, something that continued throughout his days and something that he never wanted to give up; John thought he would live forever. Friends were always very important to John and he was, in turn, a very generous and caring friend to others he met along his way.
John had a lifelong love affair with the Navy, his wife Edna and everything chocolate – on and with everything, even blue cheese!!, ketchup on many things did come a close fourth and not forgetting McDonald's coffee!!! Thankfully with the help of the Keurig coffee maker this was something that could be enjoyed every morning when he could not get out and was the only piece of modern technology that John conquered.
Aside from the Navy, which also spawned John's love of travel, he had a varied work resume. No one could fit shoes better than John, no one could eat a loaf of sandwiches with as much gusto as he walked around on the meter reader route and no one had more stories of the jobs undertaken when school was stopped early during the war years so youngsters could take up the places of those called away. He finally settled into life as a computer programmer when the computer was in its infancy and took up an entire wall. He remained in this profession, graduating into management, until the lure of the travel brochures in his desk drawer became too much; after a lifetime working with technology John closed that door in 1983. As the world advanced John stayed put with his rotary phone, non-smart TV and video player. He did not entertain the thought of having a computer or mobile phone and most of all, and to the chagrin of many, no hearing aid!!
John was an avid sportsman, both as a competitor (and John was very competitive) and, as years went by, an even louder armchair participant. Hockey was his first game followed by tennis (the dents in the garage door attest to the strength of his serve). Golf and curling took over as years went by as did bowling and swimming with the 5.30 am bunch – the latter two only given up due to the onset of COVID – not bad for a nonagenarian. It was unfathomable at times that a retired person would get up at 5.30 in the morning, especially in –30 temperatures to journey to the pool, but again it was the friendships that developed that kept John responding to that early morning alarm … and the coffee and sweet treats.
Throughout his life John was never happier than when on the go and setting off for pastures new and revisiting pastures old with his long-suffering Edna who was such a homebody. Right to the very end John was planning his next exploit, a trip to the seniors' getaway this coming October at Jasper Park Lodge, his second home, where he was always greeted as a welcome friend however …
As the clock struck 5 on the 21st the reverberating sound of a gong could be heard in the far distance and the lovely fragrance of supper cooking wafted on the breeze. It was dinner time!!! The laughter of family (grandparents Nelson & Rosalie, Wilhelm & Mabel, father Jack, mother Dorothy, brother Bill) and friends more numerous than can be mentioned, plus the giggles of grandson Jack, filled the air. John pushed off on his final earthly journey, his only regret was leaving behind his beloved wife of 68 years, Edna. Crossing the bar John looked ahead with excitement contemplating yet another new exploit because, after all, death is only the beginning.
One final note, that could not be omitted, from one who religiously read the obituaries first thing every morning, for too many years to count, and always announced 'Well, I'm not here so I guess I can get on with my day':
I'm at my Final Destination. It took me 93 years, 2 months and 9 days but I finally made it!! And what's more I'm on the obit page!! I invite you all to my celebration of life at St Augustine's Anglican Church, 6110 Fulton Road, Edmonton at 1pm on Monday 13th September. And, although I could never quite grasp the concept, the service will also be streamed live through www.staugustinesedmonton.com. Please gather in this pleasant place, remember me with spoken words, old and new. Let a tear fall if you will, but let a smile come quickly for I have loved the laughter of life. Do not linger too long with your solemnities. Go eat and drink and talk – I shall be with you.
In lieu of flowers, which unfortunately always affected my asthma and hay fever, please consider a donation to Pilgrim's Hospice, 9808 148 Street NW Edmonton AB T5N 3E8, in my name. Their kind, caring and compassionate staff and volunteers helped me through my last days here on earth and made it so my family could be with me as I passed peacefully from this life of adventure into the next, not as caregivers but as those who I loved and loved me.
After the service coffee (McDonald's naturally) and some of my favourite snacks will be available in the lower hall. I guess tea will be available as well!!