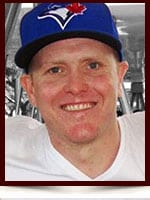 Jonathan Nathaniel Blinston
Jonathan Nathaniel Blinston was born on February 13, 1981, in Burnaby, BC. He lived his life based on loyalty and sheer joy. He was a true friend and loved by so many. At the age of 33, he was honoured to be chosen to go on a business trip to China. His friends, family and he were all so proud of his accomplishments. On March 17, 2014, while on route to his exciting trip, he fell asleep on his "bad ass big seat." There, on top of the world, he passed away peacefully.  Jonathan is survived by his love Myrna; his son and best friend Ethan; his parents Julie and Rick; his brother Joshua; and his sisters Jenna and Cassandra.
A Private Family Memorial Service will be held on Friday, April 11, 2014. Close friends and family are welcome to celebrate Jonathan's life at the Edmonton Oil Field Technical Society (OTS), 2104 156 Street SW, Saturday, April 12, 3:30 p.m.