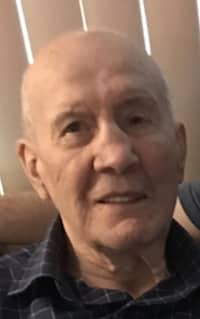 Joseph Anthony (Tony) Delorey
It is with sorrow that we, the family of Joseph Anthony (Tony) Delorey, 85, announce his sudden death on Sunday, December 9th, 2018, with family at his side at the Royal Alexandra Hospital in Edmonton, Alberta.
Tony was born in Tracadie, Nova Scotia, and left home as a teenager in 1949. He travelled to Hamilton, then Toronto, Ontario where he lived and worked as a truck driver until 1967. The West was calling him and he eventually got a job with Canada Post in Edmonton from which he retired in 1998. He then moved to the little hamlet of Entwistle, Alberta where he lived out his remaining life happily on his own. He was independent and vital until his final day and was a cancer survivor. Tony loved the West but in 2005, took it upon himself to travel clear across Canada to visit family and friends in Nova Scotia in his very treasured and shiny '87 Caddy. Yes Tony loved cars, (classic cars) and could rhyme off the year, make, and model in the flash of an eye. His second love was music and his musical instruments which he had a natural talent for and played fluently. He was constantly coaxed to demonstrate his famous double-strumming. Tony and his stories will be sorely missed.
Tony is survived by nieces Anne Marie Bowman-Boyle of Edmonton, Bernice Deon, Janet Bowman, Jane Bennett and Celena Bowie, all in Nova Scotia and Allie Ronaghan of Ontario, nephews Buckie, Sonny, Billy, Jackie, John, Francis and Jimmy Bowman, and Leonard, Earl and Billy Wallace, all in Nova Scotia, with special mention of his grand-nephew, Darin Boyle of Edmonton, whom Tony was so proud of and loved dearly. He had several grand-nieces and nephews.
Tony was predeceased by his parents, the late Walter and Celena (Myette) Delorey, a brother, John, formerly of Tracadie, three sisters, Mary (Mrs. Frank Wallace) of Merland, Alice (Mrs. John Bowman), and Rita (Mrs. Louis Bowman) of Afton, his Uncle Bill Delorey of Entwistle, Aunt Eleanor of Nova Scotia, several aunts in the United States, nephew John Francis, Anthony, Buddy, Damian, Gene, Berkey and Ronnie Wallace, formerly of Merland.
Cremation has taken place and there will be a funeral Mass at St. Albert Catholic Church, St. Albert, Alberta, at a date to be announced in mid-January 2019, to allow family attendance.
May he rest in peace.
Donations may be made to the Heart & Stroke Fund.