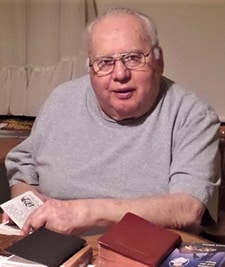 Joseph Ewaskiw
March 7, 1927- Sept 18, 2019
On September 18, 2019, we gave our dear Joe back to Jesus.
Joe was a man of faith, he lived simply, loved God and his family.
He leaves to mourn his loving wife of 56 years, Louise, his cherished son Mike, wonderful daughter-in-law Cathy, and his precious granddaughter Morgan.  He will also be dearly missed by his sister Lee, and in-laws Joyce, Joe, Thelma, and Evelyn as well as his many nieces, nephews and friends.
We are grateful to Father Mahesh for his compassion and support.  He will be officiating at Prayers on Tuesday, Sept. 24, 2019 at 7:00 pm and the Funeral Mass on Wednesday, Sept. 25, 10:30 am at St Emerence Church, in Rivière Qui Barre.
In lieu of flowers, memorial donations may be given to the Marian Centre, 10528-98 St NW Edmonton, AB T5H 2N4