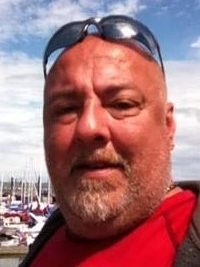 Joseph Jules junior Smith
Joseph Jules Junior Smith 53, passed away suddenly on October 5th, 2020 in Edmonton Alberta.
Born in Digby N.S he was the son of the late Joseph & Elizabeth (Thomas) Smith.
Joe is survived by his children: daughters: Lacey of Halifax N.S, Leeann (Edmond) Lower of Sackville N.S, Jessica (Trevor) of Yarmouth N.S; son Spencer of Weymouth N.S, sister Patricia Rafuse ( Bill) of Wellington N.S, brother Richard (Teresa) of Digby N.S, grandchildren: Emma, Gavin and Charlotte; nieces: Kari, Jessica and Rachael and his nephew Eric. Joe was predeceased by his brother Peter Thomas.
Joe started his career with Digby Salvage & Disposal and was also a member of the Barton Volunteer Fire Dept. Joe went on to attend Holland College and became a Paramedic for many years. He was very good at his job and took pride in his work. Joe helped a lot of people along the way. Joe was also known as the life of the party the funny guy anything for a laugh kinda guy . He could walk up to any stranger sit right down have a conversation and talk the ear right off them. When he was gone he would always leave that feeling like you have known him all your life he had that aura about him and a true gift to gab. As for his hobbies Joe liked to go fishing, he loves the beach and he loved Life . Joe was a good friend to all who knew him and will be missed by all but through all the laughs the jokes and the stories and behind that smile Joe suffered in silence.
In Joe's memory in lieu of flowers a donation can be made to: Mentalhealthns.ca/donate
A special thank you to his friend Judy who always kept in touch
There will be a graveside service on November 7th, 2020 at 1:00pm at Woodlawn Cemetery.