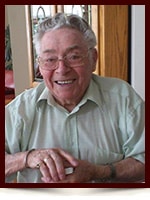 Joseph William Bowman
August 20, 1930 - July 7, 2017
Joseph Bowman died peacefully in his sleep at the University Hospital on July 7, 2017 with his family close by.
Joseph is survived by his son Peter Roy Bowman (Celine Bowman); grandchildren: Tyler Bowman (Ken Van Erp) and Cory Bowman (Amandine Bowman).
Joseph was predeceased by his wife Pearl Maureen Bowman. They were married for 56 years moving to Canada in 1957 during that time to start a new life.
Viewing
Tuesday July 11, 2017 from 7:00PM to 9:00PM
Trinity Funeral Home
10530-116 Street Edmonton, AB
Private Funeral Service
Memorial Donations
Heart and Stroke Foundation
5241 Calgary Trail NW #144, Edmonton, AB T6H 5G8