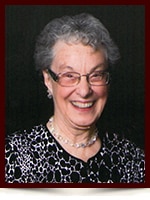 Josephine (Joan) Anne Bensted
April 14, 1932 – June 29, 2016
Joan passed away quietly on June 29, 2016, following several months of declining health.  She is predeceased by her parents Louise and Jack Bensted, of Edmonton, and her brother, Jack Bensted of North Vancouver.
Joan is survived by her good friend Gordon Robertson, as well as relatives in Northern Ireland, England, the United States, Alberta and British Columbia.
Joan was an energetic, caring, conscientious woman who was known for her sense of humour, generosity, thoughtfulness and love of life.  Through her career in Edmonton with Imperial Oil, her love of opera, photography and travel she met many fine friends with whom she kept in touch over the years.  Her cousins in Ireland, Minnesota and Calgary were especially close to her heart.  Highlands United Church was a very important part of her life.  Joan was blessed to meet Gordon, and together the two of them enjoyed each other's company over wine, dinners,lawn bowling, symphony, opera and church.
Memorial Service
Friday, July 15 at 1:00 pm
Highlands United Church
11305 64th St NW, Edmonton.
In lieu of flowers donations in Joan's name may be made to:
The Hope Mission, Edmonton or
The Lois Hole Hospital for Women, Edmonton