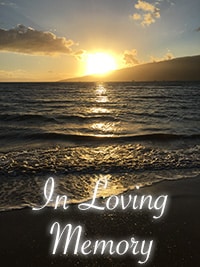 Joy Schofield
Joy Schofield of Fort Saskatchewan, a mother, grandmother, great-grandmother and great friend, died peacefully on May 6, 2018 in her sleep at the Fort Saskatchewan hospital.
 She is survived by her daughter Tamara, granddaughters Simone and Kayla, her great-granddaughter Aminah, her son Shawn, brother Allen and many nieces and nephews.
She loved her puzzles, reading, cats, mystery shows and treasured her many, many great friends.
She was born in New Brunswick in 1944, traveled to many Canadian Forces bases, including a 5-year stint in Germany, over a 20 year span while raising a family.
Her wishes were to be cremated, no formal funeral and her ashes spread over water - she always loved the ocean. Family and friends will miss her dearly.