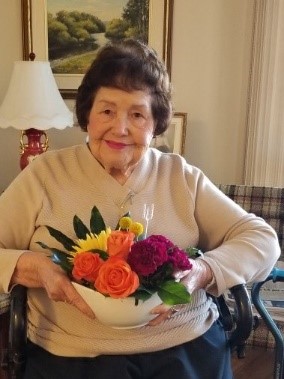 Joyce A. Begbie (née Taylor)
1927- 2023
In His peace, we announce the passing of our beloved mother, wife, grandmother, great-grandmother, sister, and friend. Joyce Aleane Begbie passed away peacefully on the morning of August 26, 2023, with family by her side. She is predeceased by her parents Lee and Allie Taylor, husbands Frank Rudder and Chester Begbie, daughter Sandra Lane and sister Olethia Hamby.
Joyce leaves her daughter, Angela Thring, her son Chuck Rudder, and grandchildren; Kelly Lane, Tara Forman, Kim Bedry, Chad Lane, Aaron Thring, Andria Kuntz and Jared Rudder, as well as her great grandchildren; Brian, Adam, Savannah, Nicholas, Ethan, Braxton, Laurissa, Brianna, Kohen, and numerous great great grandchildren.
Joyce was born in 1927, in Charolett North Carolina. Where she met and married Charles Frank Rudder, they had two children, Sandra, and Angela Rudder. Joyce and her family then moved to Alaska, hoping to find meaningful employment.  After a few years in Alaska, they ended up moving to Regina, SK. where they had their third child, Charles (Chuck) Rudder.
Joyce then took an accounting course, which allowed her to do the bookkeeping for an Insulation contracting business that Joyce and Frank had started, Rudder Mechanical Insulation.
In 1967 she moved to Marrietta Georgia, where she later met and married Chester Arthur Begbie, where they lived together until Chester's passing in 1997.
Joyce returned to Canada, where she lived with her daughter Sandra and her husband Jim Lane in St. Albert Alberta.  As Joyce grew older, she eventually moved into a senior living home, where she lived until her passing at the age of 96.
A celebration of life will be held on September 2, 2023 @ 2:00 PM at the Church of Jesus Christ of Latter-Day Saints, 10 Akins Drive, St. Albert, AB.