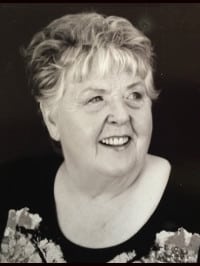 Joyce Dowdall
March 1939 to April 2018
The family of Joyce Dowdall sadly announces her passing following a short illness.
She is deeply mourned by her daughters: Denise (Daryl) and Jane (Gord), her treasured grandchildren, Liam (Caitlin), Katie, Sarah, and Chloe. She was predeceased by her beloved husband, Dennis in 2008. She will also be greatly missed by family and friends in England and Canada.
Mum was a creative soul who enjoyed art in many forms and saw beauty everywhere. She was never happier than when her hands were busy with a paintbrush, coloured pencil, knitting needles, or even a jigsaw puzzle. Many homes of family and friends have benefitted from being on the receiving end of her great talents. She enjoyed sharing her skills with others and spent many happy years at Northgate Lions Centre teaching art classes and participating in clubs.
A sincere thankyou to the doctors, nurses, and paramedics who treated Mum with great care and compassion. To all our family and friends who have reached out in support – we cannot thank you enough.
The family is proud to present Mum's artistic talent and a celebration of her life in the Otter Room at the Edmonton Valley Zoo on Wednesday, May 2nd at 6:00pm.
In lieu of flowers, donations in Mum's name can be made to the Valley Zoo Development Society, PO Box 2359, Edmonton, T5J 2R7.