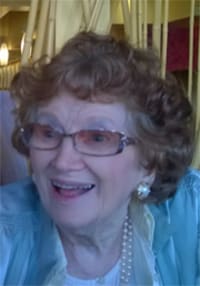 Joyce Irene Poire
Joyce Irene Poire (née Dahlberg) of Edmonton, beloved wife of Gilles Joseph Poire, mother, grandmother and great-grandmother, passed away peacefully on September 10, 2019 at the age of 85.
Joyce was born on June 23, 1934 to Lola and Erik Dahlberg in Red Deer, Alberta. She grew up in Red Deer and graduated high school there, after which she worked in a restaurant. Joyce met Gilles when he was stationed in Penhold, Alberta with the Canadian Air Force. On August 21, 1954, Joyce and Gilles were married in Penhold. Together, they raised six children while living on various Canadian Forces bases in Alberta, Germany, and Ontario, before finally settling at the Griesbach base in Edmonton, Alberta in 1974. As a couple, they both enjoyed traveling; visiting relatives in Ontario, Quebec, Washington State, and Sweden; going to dinner and movies, live theater shows, and camping; as well as hosting house parties with friends. Joyce enjoyed baking, cooking, reading, gardening, classic movies, and bowling; she was also a devout supporter of the NDP for many years. Joyce took pleasure in attending activities of her children, grandchildren, nieces, and nephews. She was always known for being very kind, loving, and honest.
Joyce was predeceased by her parents; her brothers and sisters-in law Alan Dahlberg (Lee Dahlberg) and Gilbert Dahlberg (Rita Dahlberg); as well as brothers-in-laws and sisters-in-law Guy Poire (Barb Poire), Al Bekemeyer, Simon Poire (Lise Poire).
She is remembered lovingly by her six children and their partners: Deborah Rodgers (Cesar Orantes), Derek Poire, Michele Kmech (Dean), Marcel Poire, Jacqueline Poire, and Lisa Poire (lately provider of care for Joyce and Gilles); seven grandchildren and their partners: Christy Orantes (Tony Avoujageli), Jeremy Rodgers (Rebecca Spiren), Corey Orantes, Casandra Orantes, Jonn Kmech, Lara Kmech, and Andrew Cao (Brittanee); and four great grandchildren: Brittany, Isaac, Daxton, and Caden; nieces and nephews, their spouses and children.
Joyce and Gilles had recently celebrated their 65th wedding anniversary.
Her children are grateful for the Home Care provided to her by the Northeast Edmonton Home Care program through AHS, as well as the help and assistance of the staff at the University of Alberta hospital during her short time as a patient there during her final days.
Cremation was entrusted to Trinity Funeral Home. In lieu of flowers, donations on behalf of Joyce Poire can be made to the Canadian Cancer Society. Her children are planning a spring memorial service and family and friends will be notified in advance of the details.