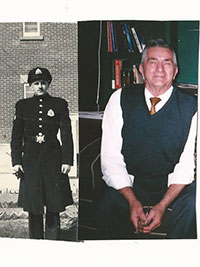 JULIEN WILLY (Bill) HOMBERT
July 16, 1928
-
June 29, 2021
Julien Willy (Bill) Hombert passed away at the Royal Alexandra Hospital in Edmonton on June 29, 2021.
He is survived by his sons Serge (Madeline), Jack (Donna) and Steve (Jeannette), his daughters Jenny Yaceyko and Linda (Tony) Strifler, 12 grandchildren and 19 great-grandchildren.
Bill was predeceased first by his wife of over fifty years, Muriel, who was the loving mother of his children and then by his second wife, Lavynne, who was his caring companion of almost fourteen years. "Grandpa Bill" was also predeceased by his grandson Michael John and granddaughter Stephanie Elizabeth Marie Hombert (Serge and Madeline) as well as his brother Fernand Hombert.
Bill was born in Paris, France in July 1928 and immigrated to Canada with his parents and brother . They settled in Repentigny, Quebec where Bill's varied and colorful life included doing undercover work with the Montreal Police and then serving in Korea with the Canadian Army. It was in Quebec that he met and married Muriel. Bill earned his Business degree and, as his own family grew, he relocated first to the West Coast and then to the Yukon. Career choices were varied and included hotel management and a stint at gold mining. Fortunately, Bill's sense of adventure was matched by Muriel's easygoing temperament because there was even a time that the family found themselves living and working in Inuvik, NWT where Bill worked at a hotel and then owned a grocery store.  Switching to a much warmer climate, Bill and Muriel eventually found themselves in Ghana for a few years when Bill managed the office of a big hydroelectric plant in that African country. Returning to Canada, Bill was employed by Fluor in Calgary. After retiring from Fluor, the couple moved to a rural area outside of Spruce Grove to try raising pigs – an experience shared with their son Jack. Retiring for the second time, Bill and Muriel settled in Stony Plain until Muriels' sudden death.
It was in Stony Plain that Bill met and married Lavynne  and they both became active members of  the church there. The couple lived beside the lake in Onoway and Bill, although in his late 80's and early 90's, enjoyed working as a dependable greeter at the Tim Hortons in Spruce Grove. He was a "people person" and could always be counted on for an interesting story or anecdote to brighten the days of customers.
Burial arrangements are currently being planned.