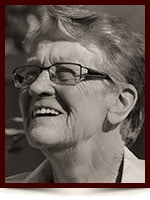 June Shaw
June 10th, 1932 - October 4, 2014
It is with great sadness we announce the passing of our dear mother and Nana, June Shaw (née Gill). Mom passed away peacefully at home with her family by her side after a graceful and courageous struggle with lung cancer.
June was born in Manchester, England in June 1932 to proud parents Joseph and Ruth Gill with siblings Alec, Edith, Margaret, Ruth and Dorothy. Always a mischievous tomboy, there are lots of tales of June's adventures as a child; stealing her brother's newly built bicycle and crashing it into a brick wall because he had not yet installed the brakes; lying in a field watching the German bombers fly over Manchester while she was supposed to be headed for the bomb shelter; playing hooky from school and getting caught by the truant officer, to name a few.
She enjoyed her years working at Tootals with her friends. June loved sports of all kinds; hiking and cycling across England and playing field hockey on the company team. Later in life, she was a devoted fan of the Edmonton Oilers and rarely missed a game.
In 1956, shortly after the birth of her first child, Lyn, this often fearless young woman boarded an ocean liner and by herself, with her babe in her arms, left her life and family in England to meet her husband, embarking on a new life in Canada.
Being a military family, many moves took place in the years that followed; Ottawa, where Kim and Wendy were born, then Chicoutimi where 4th daughter Pam came along. After the military, the family moved home to England for 3 years, but couldn't resist the opportunities Canada held for the children, and returned to Montreal in 1968 where son Stephen was born. The family finally settled in Edmonton, where daughter Andrea completed the family.
With her family mostly grown, June came home one day to announce she had gotten a job at Marks and Spencer's and so her retail career began. She loved her work there; some might say those ladies had too much fun at that job. She retired when Marks and Spencer's finally closed their Edmonton stores.
Her greatest joy later in life came from her grandchildren, Lindsay, Geoff, Brennan, Taylor, Shelby, Karissa and Cassie. Nana loved watching her grandkids play their various sports and always encouraged them with a "good show, Babe" in all their endeavours. She was so very proud of them all.
June was greatly loved and will be truly missed by her daughters Lynette, Kim, Wendy, Pam and Andrea, son Stephen and seven grandchildren (Lindsay, Geoff, Brennan, Taylor, Shelby, Karissa and Cassie) in Canada, her sisters Ruth and Dot (Colin) in England and her favorite "team" of Gold (Kevin), Silver (John), Bronze (Nick) and Rust (Ricky).
In her gentle and humble way Mom touched many over her lifetime with her humour, kindness and sage advice.
We would like to thank the wonderful Home Care and Palliative Care teams who took such good care of our Mom over the past three months. They are a very special group and their support is much appreciated. A special thank you goes to "Nurse Christine" for her loving care and unwavering support.
Per Mom's wishes, there will be no formal funeral service. In lieu of flowers and "any fuss", she asked that donations be made to Jessica's Wish Foundation at www.jessicaswish.ca