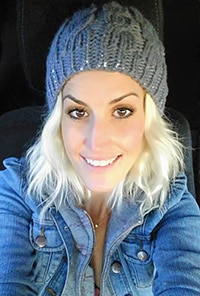 Kaitlyn Norah Lorraine Matter
On January 22, 2019, as the result of a tragic traffic accident, Kaitlyn Matter of Leduc County passed away at the age of 34.
Survived by her loving family; parents Neil and Donnell, her brothers Trevor (Jana Lee), Chantz (Brooke) and Niall (Sara); nieces and nephews Ryder, Cadenz, Raegan, Boston, Ireland and Wolf. Kaitlyn also leaves behind numerous aunts, uncles, cousins, extended family and friends.
Kaitlyn had the kindest heart and was forever taking in strays, animals or humans. Her thousand watt smile and her beautiful brown eyes would light up any room. If ever you were in need Kaitlyn would give you absolutely anything she had. Her final gift to this world was to donate her organs so that other families had the chance to save their loved ones.
Her family is so proud of her for helping other families in their time of need. Even though our hearts are broken her light will continue to shine in this world.
Reverend Arian Parenteau will celebrate Mass of Christian Burial on Saturday, January 26, 2019, at 1:00pm at St. Vital Catholic Parish, 4905 50 St., Beaumont.
Kaitlyn's final resting place will be in the Clearwater Cemetery in the spring.
We would like to thank the first responders for getting our beautiful girl to the University of Alberta Hospital so quickly. Our heartfelt gratitude goes out to the Emergency Room staff and the Neurosurgical ICU 4A4 for taking such loving and attentive care of Kaitlyn in her final days.
In lieu of flowers memorial donations can be made to the Neurosurgical ICU 4A4 at the U of A Hospital or to the SPCA in support of her love for animals.