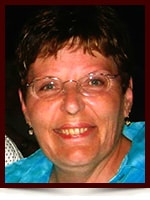 Karen Roberta Lane
Karen Roberta Lane, 64, of Edmonton, passed away Thursday, August 25, 2016, at the University of Alberta Hospital after recently being diagnosed with end-stage cancer. She was born October 31st, 1951 the daughter of Robert and Lillian Lane of Westlock, Alberta.
Karen was predeceased by her parents and will be laid to rest with them in Westlock. She was also predeceased by her sister Marlene in 2007 and brother Dennis (Zinnia) in 2014. She is survived by her eldest brother Ardelle (Lori) from Red Deer, and her youngest sister Erica in Edmonton. She is also survived by numerous nieces and nephews, and was particularly close to Corey Nelson (Dana) and Ashley Lane. Although Karen never had any children of her own, she was truly a mother at heart and took an important role in raising her youngest sister, and her niece, Ashley Lane, and her little man Zachary Lane, who knew her as Nana.
Karen's motto was Live, Laugh, Love and truly reflected how she choose to live her life. Karen had been badly injured in a fire and fought her way through a very hard and painful recovery; that experience caused her to appreciate every day as a gift and to give freely of herself. She had a keen sense of humor and loved to share laughs and love with her family and friends and believed that happiness was a choice that you make.
Karen graduated from Westlock High School, with the class of 1970. She formed many friendships during her school years in Westlock and continued to be life-long friends with Anne Pratchler. Karen loved to travel and was particularly fond of Hawaii and loved all things tropical; she also loved music and had a wide range of musical favorites. She spent much of her working life at the Alberta Treasury Branch and retired from there in 2011 after 33 years of service. Karen didn't remain retired and started to regularly take shifts at the Jubilee Auditorium until she eventually found the late concert hours to be getting tedious and decided to give it up. She was working supervision at Queen Alexandra elementary school up till she felt ill in late June -she loved being a part of the school kid's daily lives.
She will be laid to rest on September 17th at 11:00 am at the Westlock Public Cemetery. We welcome everyone to come and pay their final respects at this time. Live, Laugh, Love.