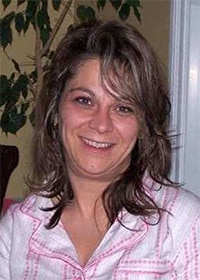 Karrie (Buchan) Mikytyshyn
The family of Karrie (Buchan) Mikytyshyn is saddened to announce her passing on April 11, 2020, 6 days after her 54th birthday.
Karrie was born on April 5th, 1966 in Regina, Saskatchewan. She was raised in Saskatoon and attended Bishop Roborecki and E.D. Feehan High School. After graduation, she furthered her education in Saskatoon at Kelsey Institute and became a Combined X-Ray/Lab Technician. She also took several classes at Grant MacEwan University in Edmonton.
Karrie moved to High Level, Alberta in 1987 and worked at the High Level General Hospital until her move to Edmonton in 2015 where she continued to work at DynaLIFE Medical Labs until recently.
Karrie enjoyed life and made the most of it. She was very giving and never expected anything in return. Her positive attitude and laughter were infectious. Karrie looked forward to special occasions such as Birthdays, Christmas, Easter and Halloween, preparing meals, decorating the home, planning entertainment for gatherings. Halloween was special and costumes were not just for the children. She carried that same enthusiasm to work, dressing up as an Easter Bunny or Santa's helper, distributing cheer and treats to patients in the hospital
Karrie had a love for animals. Dogs, cats, rabbits, guinea pigs and rescued pets were a part of the family,. She wouldn't need much encouragement to visit the local animal shelters. She also loved to be in her small garden.
Karrie will be greatly missed by her children, Casey and Seth Buchan, her parents, Mike and Claire Mikytyshyn, her brother, Allan (Barb) Mikytyshyn, her sister, Shelley (Brent) Kuchapski as well as nieces, nephews, cousins and numerous Aunts and Uncles.
Due to Covid-19, a Celebration of Life will be announced at a later date.
In lieu of flowers, a donation may be made to the charity of your choice.