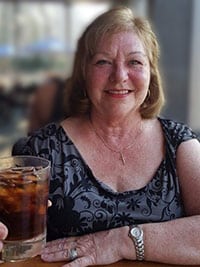 Kathleen Christeen Horvath
The family regretfully announces the passing of Kathleen Christeen Horvath on January 9, 2021. 
Left to cherish her memory is her loving husband Ben Horvath;  daughter Kimberlee Fox (Matt Fox) and grandchildren Nicole  and Andrew Fox; daughter Karrie Wickett (Lou Vanderhaak) and  step-grandchildren Brett Melnick (Ashleigh Melnick) and Janelle  Melnick; mother Marie Lillian Fead; brother James Fead; and  sister-in-law Veronica Fead.  
Kathy was predeceased by her father Robert Fead Sr. and by her  brother Robert Fead. 
Kathy's love for her family was abundantly obvious to everyone  she met. She was very proud of her daughters and grandchildren. 
Her and Ben recently celebrated their 40th Wedding Anniversary  in August. 
Kathy loved to garden, cook and bake for her family. She always  made sure whoever walked through her door, left with a full  stomach. 
She will be missed so much. We will not say "good bye" but  rather "See You Soon!" 
We will be planning a celebration of life once Covid allows for  easier travel. 
In lieu of flowers, please consider donating to the  Canadian Lung Association in Kathy's name.