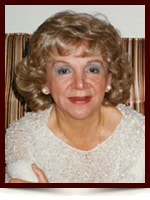 Kathleen (Kay) McCarthy
Kathleen Rita McCarthy was born in Northern Alberta on September 9, 1925 and passed away at the Good Samaritan Southgate Centre on November 26, 2016.
An Edmonton teenager during WWII, Kathleen was employed at "The Gas Company" until retirement. Always a "fashionista", she was a septuagenarian fashion model, still admired for her style. Following politics was a passion; the "political junkie" was an active member of the Liberal Party of Canada. Kathleen retained a remarkable memory and active intellect. She enjoyed life in the Oliver area, overlooking the river valley and The Promenade.
Kathleen was predeceased by her parents, RCMP Staff Sergeant Eugene McCarthy and Jane Clarke McCarthy, many relatives and friends. She is survived by her cousin, Sheila Walker of Calgary, numerous other cousins and their families.
Cremation has taken place and will be followed by interment, at a later date, in the Edmonton Cemetery. Respecting Kathleen's wishes, there will be no memorial service.
Special thanks to the caring staff at Southgate Centre.