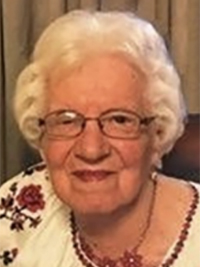 Kay Trach
Passed Away
October 2, 2021
Kay Trach of Edmonton passed away on October 2, 2021 at the age of 96 years. She was born in Slawa, Alberta on October 15, 1924.
Kay was predeceased by her husband Steve of 35 years; brothers: John, Steve, Dan and Pete; sisters: Nettie, Mary and Annie; daughter-in-law Jane Trach and her cherished companion of 20 years Mike Steffin.
She is survived by her sister Alice Rawlyk; daughter Adeline (Doug) Parsons and son Don Trach as well as three grandchildren: Kerri (Daniel) Pitts, Mark (Erin) Parsons and Todd (Nikki) Trach plus six great-grandchildren: Julia, Charlotte, Gwyneth, Bridget, Ayva-Lynn and Everlee.
Kay left us with many memories and will be greatly missed. She loved to dance all her life but especially in her later years at the Northgate Lions Senior Centre where she was a lifetime member. She enjoyed trips to B.C. and Hawaii as well as a few trips to Watrous and Moose Jaw. Enjoying her Ukrainian and pioneer heritage, she would eagerly dress up for Klondike Days and visits to Ukrainian Village.
A celebration of Kay's life will be held at a later date.
In lieu of flowers, memorial donations can be made to St. Michael's Health Group at Millennium Pavilion 7408 - 139 Ave Edmonton T5C 3H7, where Kay last resided.