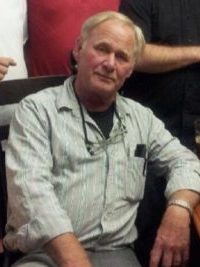 Keith Leonard MacVicar
It is with great sadness that we announce the passing of Keith L. MacVicar of Edmonton Alberta.
Keith was born in Minto New Brunswick, the first child of six to the late Leonard and Jean MacVicar. He first moved to Western Canada in the early 1970's and remained there throughout his life often returning to the Maritime provinces to reunite with family and friends, usually unannounced and unexpectedly. Keith was always passionate about was his work and finding solitude and serenity through his long drives. He also greatly enjoyed his frequent trips to Walmart and Canadian Tire. Keith also loved to travel abroad and in doing so met his final life partner Susanna in the Philippines where after many visits they were successful in relocating Sussie to Edmonton where they resided until his death.
Along with his siblings Marilyn, David, Rita, Ruth and Glendon, Keith is also survived by his two sons Greg (Lise) and Troy (Wendi) , his two daughters Nicole and Kimberly as well as his three Grandchildren Corey, Ethan and Molly.
In accordance with his wishes there will be no formal service, instead we ask that you share any fond or humorous memories of him in the comments section.
Of course donations may be made in Keiths memory to the charity of one's choice.