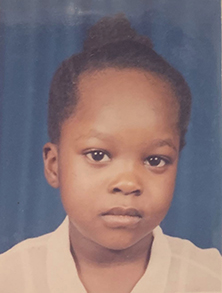 Kel Majok
August 7, 1998
-
September 28, 2021
Kel Majok, affectionately known as Kelly and Kaka by loved ones, was a beloved daughter, sister, cousin, and friend. Born in Khartoum Sudan, she and her family migrated to Cairo, Egypt before arriving in Canada in the early 2000s. She resided in Ottawa, Ontario before moving to Edmonton, Alberta with her nine siblings and parents, Abut Lyai and the late Awaj Majok. Kel attended St. Mary's Catholic School and Louis St. Laurent Junior/ High School for her elementary and secondary schooling. After highschool, she went to Blanche Macdonald Centre in Vancouver, to become a certified makeup artist and received a diploma for her training.
She was a highly talented makeup artist and received recognition from her family, peers, instructors and clients. She had ambitions to become a business woman in the beauty field, and was doing freelance makeup as she worked towards her goal. Kel was excellent in her craft and could make anyone feel confident in their beauty.
Kel was known to be outgoing, confident and always loving. She had a big heart and was keen to embrace everyone she met with a smile and hug no matter how long she knew them for. In regards to her character, Kel was loyal, honest, funny, kind and extremely caring. She truly valued the people around her and made a constant effort to check in on them and support her loved ones in any way she could.
Kel leaves behind her mother: Abut Lyai; her nine siblings:
Akon, Aboula, Ayoudo, Ayoudo, Awaj, Arek, Akilo, and Majok; and her nieces and nephews.
A visitation will take place Friday October 29th, from 5pm-7pm at Trinity Funeral Home.
A private family funeral will take place Saturday October 30th at 10:00am.
Those wishing to watch the service may do so using using the link provided:
https://www.legacytributevideo.ca/kel-majok/