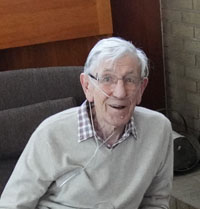 Ken Barron, PhD, P.Eng, FCIM
Ken Barron, PhD, P.Eng, FCIM
1933-2020
Ken Barron died on Sunday, September 27, 2020 of various lung diseases.  He is survived by his wife, Eunice, of sixty years and by his brother, John, his niece Gail, grandnieces Imogen Hunter and Alice Barron, his nephew Mark Barron and grand nephew Oliver Hunter.
Ken was born April 2, 1933 in London, England.  He was educated in England, obtaining a BSc and MSc in Physics and a PhD in Engineering.  In 1957 he joined the National Coal Board Mining Research Establishment as a Scientist.  Then in 1960 he married Eunice and they immigrated to Canada where he joined the Mining Research Laboratory (MRL), CANMET, Ottawa, as a Research Scientist.  From 1965-66 he participated in an international exchange and worked in South Africa for the Council of Scientific and Industrial Research for 18 months before returning to Ottawa.  In 1970 he was transferred to Calgary where he was appointed Manager of the Western Office of MRL.  He left government when he was appointed Managing Director of the then newly formed Coal Mining Research Centre, Devon, Alberta.  In 1984 he joined the University of Alberta as Professor of Mining in the Department of Mining, Metallurgy and Petroleum Engineering, serving as Department Chairman from 1992 to 1997.  He won the Departmental Best Teacher Award on two occasions.  Retiring from the University in 1998, he continued research, consulting, and serving on various committees until the age of 80.  In a career devoted to mining research he published over 100 papers and reports in the public domain.  He was an active member of the Canadian Institute of Mining (CIM), serving as Chair of the Calgary and Edmonton Branches and Chair of the Coal Division.  He was a Fellow of CIM and received the CIM District 5 Proficiency Medal, the CIM Rock Mechanics Award and the CIM Coal Award.
Ken was a keen sportsman with love of skiing, tennis, and field hockey.  When living in Ottawa he helped organize and run tournaments for the National Capital Lawn Tennis Association.  He played tennis for over 70 years and won a number of local men's and mixed doubles events, including a Gold Medal at the Alberta Senior Summer Games in 1994.  In 1968 he helped organize and run the first club field hockey team in Ottawa.  On moving to Calgary, he represented Alberta in the National Field Hockey Tournament.
Both Eunice and Ken developed a great interest in indigenous art and over the years built a major collection.  Both served as President of the Inuit Art Enthusiasts.
On retirement from the University, Ken joined the Association of Professors Emeriti (APE) and served on the board for three years.  He was a keen participant in the APE photographic, Dining Out, Lunch with, and Travel groups.
As a keen photographer, he had a particular interest in Wildlife and Orchid Photography and won awards at the Alberta Orchid Society and Alberta Senior Citizens Sports and Recreational Association shows.
A "Celebration of Life" will be held at the University Club, Edmonton at a suitable date.
In lieu of flowers, donations to the Alberta Lung Association would be appreciated.