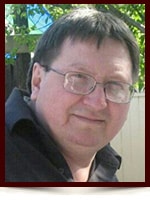 Kenneth Bertrand
June 16, 1958 - August 5, 2014
On August 5, 2014 Kenneth Bertrand of Dryden Ontario, passed away at the age of 56 years.  Kenneth leaves to mourn his parents; Zenon and Louise Bertrand, as well as Sisters; Martha (Michael) Howatt,
Sarah (Brian) MacArthur and Debbie Milavsky, Nieces and Nephews; Sandra Howatt (Mike), Jordan (Tanya) Howatt, Craig MacArthur, David MacArthur (Vanessa), Monique Milavsky (Steve) and Terina Milavsky, as well as five great nephews; Colby, Nathan, Jaxon, Noah and Tyler
Dearest Ken Your kindness will be remembered.  We will always love you and hold you dear to our hearts. Be at rest.
Funeral service
Wednesday August 13 at 11am at Trinity Funeral (12134 66 Street, Edmonton, Alberta)