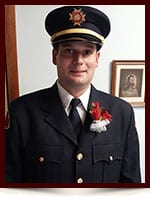 Kenneth Petros Goss
Taken too soon by a tragic workplace accident on June 2, 2016. A much loved young man with so much to offer, Kenny Goss left a large foot print on the world he connected with.
Kenny will be greatly missed and lovingly remembered by his wife Shawna. Memories will be cherished by his parents Ken & Diana Goss, sisters Jan MacKinnon, Cheryl Goss, Arlene (Rick) Flynn and nieces Thera and Stacy MacKinnon. He also leaves to mourn Shawna's parents Henry & Maggie Lipka, her brother Cody (Taralynn) Lipka and niece Evelyn. He will be missed by extended family, friends and work mates.
Kenny accomplished and experienced many things in his life, he never took anything he did for granted but worked hard to do everything to the best of his ability. He felt emotion deeply which was evident when Shawna walked down the aisle towards him on their wedding day. He loved you deeply Shawna. Quoted by a news paper, Kenny talked about being a fire fighter. "You advance yourself in your life and you never know; maybe later on in your own life you can do this full time and save peoples lives every day. That's what I look forward to in my life."
Celebration of Life
Saturday June 11, 2016 1:00PM
Pembina Place
Redwater Alberta
Kenny you touched so many lives and will be
missed by all who knew you.