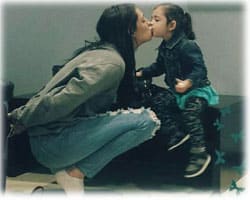 Khyanna Alexis Butterfield
It is with saddened hearts that the family of Khyanna Butterfield announce her passing on October 13, 2020 at the age of 27 in Edmonton, AB.
Khyanna is survived by her 5 year old daughter Mia Murillo, and her husband by separation, David Murillo, as well as her parents Jeanette Brown (Rick) and Collin O'Byrne (Dawne), her siblings; Austin, Aiden and Maya. She also leaves maternal grandparents; Sharon VanDerKamer and David Butterfield, and paternal grandparents Helen Hutchinson and Larry O'Byrne, as well as Aunts; Kimberley Butterfield (Darryel) and Mishel O'Byrne, and cousins Larissa Kooi (daughter Trinitee Fortin) and Tyler Kooi (Vivian) as well as numerous relatives and close friends.
Khyanna was predeceased by step grandfather John VanDerKamer.
Khyanna was an incredibly beautiful, free spirited, willful, generous and she loved like no other, which included Angel, the family furbaby.
No matter where Khyanna was in her journeys, she always found her way home for holidays and special occasions. She shared her life with family and friends but her "home" was always with her cousins Larissa and Tyler.
Khyanna's biggest accomplishment, and who she loved more than life itself, was her daughter, Mia.
Mia carries on the exquisite beauty and radiates a brilliant smile that will warm your heart on the coldest of days.
The family would like to thank Trinity Funeral Home for their assistance and compassion in helping lay our beautiful Khyanna to rest.
A Celebration of Khyanna's Life will be held at a later date.