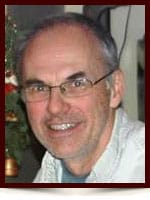 Kim Thornton
In loving memory of Kim Thornton, December 30, 1951 to April 15, 2014
Kim passed away unexpectedly at age 62 leaving his wife Sandra, children Kari (Terry), Jesse (Cheryl) and Geneva (Dez) and six beloved grandchildren – Isabella, Skye, Owen, Kyryn, Alisdair, and Finn.
Kim was passionate about food and health, country living, photography and videography, and above all, his six grandchildren. He had a warm smile and a loving and generous nature. He will be missed beyond measure.
We will honour Kim's life on Tuesday, April 22 with an open house from 1:30 to 5:00 pm at Kilini Lake Lodge. For driving directions, please contact kariwiz@gmail.com.