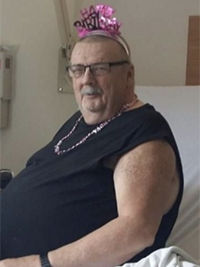 KIMBERLY JOHN TREMERE 
June 11, 1952
-
July 1, 2021
The family of Kimberly John Tremere of Edmonton, Alberta, formerly from Kingston N.S,  regretfully announce his passing on July 1, 2021.
Kimberly will be lovingly remembered by his wife Valreta Mapplebeck, children; Robert J Tremere, Crystal (Dan) Kapel, Tannea (Darrin) Wilson, and Troy Janfield, his sisters; Cherie McMillan and Elaine (Mike) Penny, brothers; Gerard Tremere, Robert S Tremere, and Glen Thompson, grandchildren; Mackenzie Deveau, Gabriel Deveau, Tyler Wilson, Bryce Wilson, Tisen Wilson, Kristal Wilson, Kalea Wilson, and Alexander Joseph Tremere Deveau.
Kimberly was predeceased by his mother Vivian Thompson.