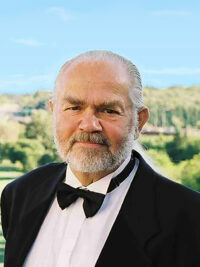 Lajos "Zazo" Hajdu
May 17, 1940
-
February 27, 2021
Lajos "Zazo" Hajdu
May 17, 1940 - February 27, 2021
Zazo passed away peacefully in his sleep in the early hours of February 27, 2021. He was predeceased by his wife of 60 years, Gabriella; brothers Miklós, Gábor and Gyӧrgy; parents, Lajos and Margit Hajdú. Zazo is survived by sisters Mariann and Rita; sons Gabor (Michelle) and Zsombor (Kristina); grandchildren Ilona, Tyler and Kassaundra, numerous nieces, nephews and extended family.
Zazo was born in Nyiregyháza, Hungary. He attained a Masters Degree in Agrology Engineering with a Specialized Masters Degree in Animal Sciences from the Agrology University of Gödöllõ, Hungary, and a Degree in Fine Arts from Grant MacEwan University, Edmonton, Alberta. After an early retirement from Alberta Agriculture, Zazo turned his attention to pursue his passion for fine art full-time as an already recognized and established sculptor. Zazo was a very passionate, creative man and an extremely talented sculptor with many exhibitions. His commemorative plaques of politicians, community leaders, sports personalities, memorials, statues and other art can be found in public places and private collections in Edmonton, Sherwood Park, Calgary, Ottawa, United States, Europe, and Asia.
He was a caring and driven person, who gave back to the community through his art and as an outstanding member of the Free Masons (Scottish Rite and Knights Templar), Al Shamal Shriners, Knights of Malta, and a long time member of the Sculptors Association of Alberta, CARFAC, and numerous other associations in Canada.
For decades, he was very involved with First Nations Associations, and was an avid advocate for the preservation of indigenous traditions and ceremonies in Alberta and throughout North America. He was a devoted participant in Sweat Lodge and Sundance ceremonies, and believed in our interconnectedness with nature, one another and the creator. He loved life, culture, nature, and gave generously to Indigenous causes, the conservation of endangered species, the preservation of natural resources, as well as various children's charities. The only thing he really did not like was technology, especially computers and remote controllers with too many buttons.
All who knew him will miss his talents, passion, imagination, generosity, and super strong coffee.
Thank you to the amazing staff at Galahad Continuing Care for the genuine love, care and support you show all your residents. A celebration of life will be held at a later date.
In lieu of flowers, any donation can be sent to Calvin Hungarian Presbyterian Church, 11707-86 Street, Edmonton, Alberta, T5B 3J7.
Hungarian
Isten Legyen Veled
Majd még találkozunk
Lakota
Wakhán Thánka Kičhi Un
Tókša Akhé Wančhíyankin Kte Ló
Mitakuye Oyasin
Cree
Kisê Manitow K'Kawîcê Wik
Piyisk Kawi
Kânak's Kâtoyahk
God be with you.
We will meet again.