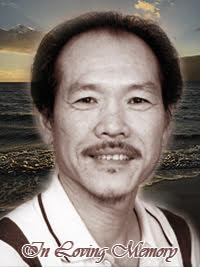 Lam Cam
Lam Cam of Edmonton, Alberta who was born on April 28, 1961 in Ho Chi Minh city, Vietnam has passed away on Friday, September 25, 2020.
Following a hard-fought stay at the hospital, Lam requested to return home so that he could be surrounded by his loving family and friends during his final weeks. His final wish was granted when he passed away peacefully with a family member by his bedside.
He is survived by Kevin Cam (son), Alvina Cam (daughter), Madeleine Nguyen-Cam (granddaughter), and the following known relatives in Vietnam: Bui Mann (brother), Son Mann (brother), Binh Mann (sister), Chanh Mann (sister), Mui Mann (sister), Quay Mann (sister), Hoi Mann (sister), Ngoc Mann (sister), Xiem Mann (sister), and An Mann (nephew).
A service remembering Lam's life will be held on Sunday, October 4, 2020 at Trinity Funeral Home. Lam will be laid to rest the following day on Monday, October 5, 2020 at Evergreen Memorial Cemetery.
His warm and welcoming presence will be sorely missed.