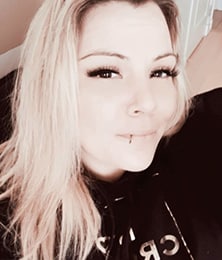 Larissa Ann Kooi
It is with heavy hearts and great sadness, we announce the sudden passing of Larissa Ann Kooi, age 32, on February 11, 2021, in Edmonton, Alberta we had to say goodbye to a wonderful life.
Larissa is survived by her daughter Trinitee-Rose Fortin age; 13 as well as her loving mother Kimberly Butterfield (Darryel) and brother Tyler Kooi (Vivian), and father Harold Kooi.
She also leaves behind her maternal grandparents Sharon VanDerKamer and Dave Butterfield. Her paternal grandparents Mary and Wilf Sklar. As well as her aunts and uncles. Jeanette Brown (Rick), Ann and Glen Folland, Barb Kooi (Ambrose), Dave Kooi (Melanie). Along with her cousins Mia Murillo, Christopher and Melanie Knudson (Nick and Josh), Greg Lutgen (Mikayla)  (Davin, Brayden, Sophia), Weston and Bailey Koroluk (Carter and Austin), Ambrose Denty (Ambrose Jr. and Jada-Lin) and John and Danielle Denty (Tony and Mackenzie). Last but not least the family furbabies Angel and Mr. B.
She is now an angel in heaven joining her cousin Khyanna Butterfield, grandfather Ben Kooi and step grandfather John VanDerKamer.
Larissa was born and raised in Edmonton, Alberta. She was very close with her extended family growing up. Always making lifetime friends throughout all of her life. In her later teenage years moving to Calgary with her mom and brother. In 2006 she was married for a short time to Blaise Fortin then later on giving birth to her daughter Trinitee in 2007. Larissa faced many hardships in her life, with every one of them she came back stronger. Her most treasured and happiest moments are with her remarkable, beautiful daughter, she loved being a mother.
Larissa was very private, independent and strong, and so incredibly beautiful inside and out. She lit up rooms, Larissa was truly a person you would never forget.
There was always a missing link in her life, she met that missing line in 2004 where she met her biological father Bill Smith. In 2017 she met her half sister Adella Candice Hopkinson (son Azriel), which made her life a little more complete.
When she was at her best she could do anything. Her motivation was inspirable. She wasn't scared of anything and would run laps and stairs around everyone, literally. Exercise was one of her coping methods through her hardships. A woman of many talents, she made a mark whether at work or just simple meetings, it is hard for people to forget her name once they learned it.
Larissa will be dearly missed by her loving family and friends. With that the family would like to thank Trinity Funeral homes for their compassion and kindness while letting our beloved Larissa rest in peace.
Due to restrictions, a Celebration of Larissa's Life will be held at a later date.