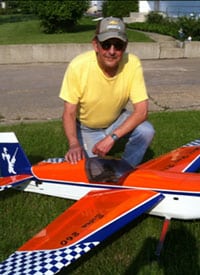 Larry Salamandick
September 10 1942 - January 11 2021
Larry (Lawrence) lived his life with dignity and outright honesty. He was an inventor, creator, family man and true friend. He provided for his family and left his sons with skills that would carry them throughout their lives .
He was a dedicated husband and a loving Grampy. As a dear friend summed up his life "the things that man knew". He was a steadfast employee at Telus ( AGT) for over 35 years. He was a fearless go kart driver for several years and he designed and built our cabin at the lake that we enjoy to this day.
He leaves to mourn his loving wife of 54 years, Judy, his sons Mark and Mike, daughter-in-law Susan and granddaughters Zoë, Zara, Mia and Taya.
He was predeceased by his father Joseph Salamandick in 1986, loving mother Lena Salamandick (nee Dick) 2008, brother Kenneth Salamandick 1996, brother Harold Salamandick 2006, niece Lisa Salamandick in 2009 and sister Joanne Brackenbury in 2020.
He will be lovingly remembered by his wife Judy, sons Mike and Mark, sister Doreen (Craig) Flewelling of Bowden, and sister in law Jan Salamandick, sister-in-law Mary Jo Gibbons, Sheila McRae of Pincher Creek, along with numerous nieces and nephews and loving friends,many of whom belonged to the Edmonton Remote Control Society. And our "lake family " who we hold dear in our hearts. And neighbours, and old friends from Lacombe Alberta.
A family celebration of life will be held at a later date.