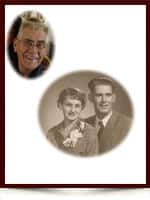 Lawrence Harold Sigurdson
Lawrence Sigurdson died on December 13th at the age of eighty-six. He was predeceased thirty-nine days by Mary, his wife of sixty years. Lawrence and Mary met at a dance in Swan River, Manitoba.
Lawrence is survived by his children Mark and Janet, and his grandchildren Sara, James, Christopher, Sarha, and Dayna. He is also survived by his siblings Albert, Ella, David, and Ivan.
Lawrence farmed in his early adulthood, but decided to become a welder instead. He was also a self-taught machinist, and he operated Sigurdson Contractors for many years.
Lawrence was a product of the Depression Era. If something broke, he fixed it. If the replacement part wasn't available, or the necessary tool didn't exist, he made one. Mary often said, "Lawrence can turn his hand to anything." Lawrence was known in the community for his gruffness, capability, and integrity.
Lawrence was extremely kind to animals. Dogs and cats gravitated to him. Donations to Paws and Claws Animal Rescue Foundation, Box 26062, Red Deer, Alberta, T4N 6X7 are requested in lieu of flowers. There will be no funeral at Lawrence's request, though a memorial gathering will be held at a later date (TBA). Lawrence will be deeply missed.