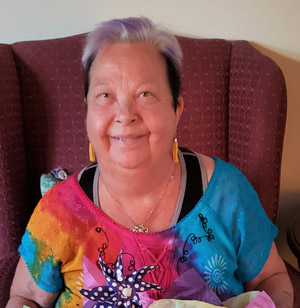 Leila Mae Walton
June 25, 1957
-
December 3, 2022
It is with heavy hearts that we announce the passing of Leila Walton on December 3,2022.
Leila is survived by her sister Shirley (Wayne) Harris, her niece Lori Walton, her dear friend Jocelyne Pettifer. Her brothers Edward (Janet) Walton and Brian (Helen) Walton.
Nieces and nephews Cameron Ouellette, Danelle Ouellette, Deanna Neilson, Emery Neilson, Tammy (Matt) Gorny, Lachlan Gorny, Hailey Gorny, Darren (Stephanie)Walton Tanner (Elizabeth) Walton.
She was predeceased by her parents AIan and Julia Walton and nephews Jeffrey Walton, Michael Walton and Douglas Harris.
Leila was born on June 25,1957 in High Prairie, Alberta. She retired as a Recreation Assistant at Holyrood Extended Care where she loved her job and the many friendships she formed there.
People were immediately attracted to Leila. She was warm, generous, appreciative, funny and fun to be with. The most important things in her life were her family and friends. She loved traveling, planning parties, BBQ, bonfires with cool drinks and hot dogs. She sought out new places and experiences. "Adventures" she called them.
Leila fought a courageous battle for 6 years against cancer. But she never wanted to dwell on her issues. Rather, she wanted to know how you were doing. She was up-beat and positive, truly living life one day at a time. Her motto was "Quality over quantity" and her theme was James Brown's "I feel good". She touched so many lives in a positive way and will be truly missed by all her family and friends.
A service will not be held at this time. Family and friends will be notified of a Celebration of Life to be held in the Spring.