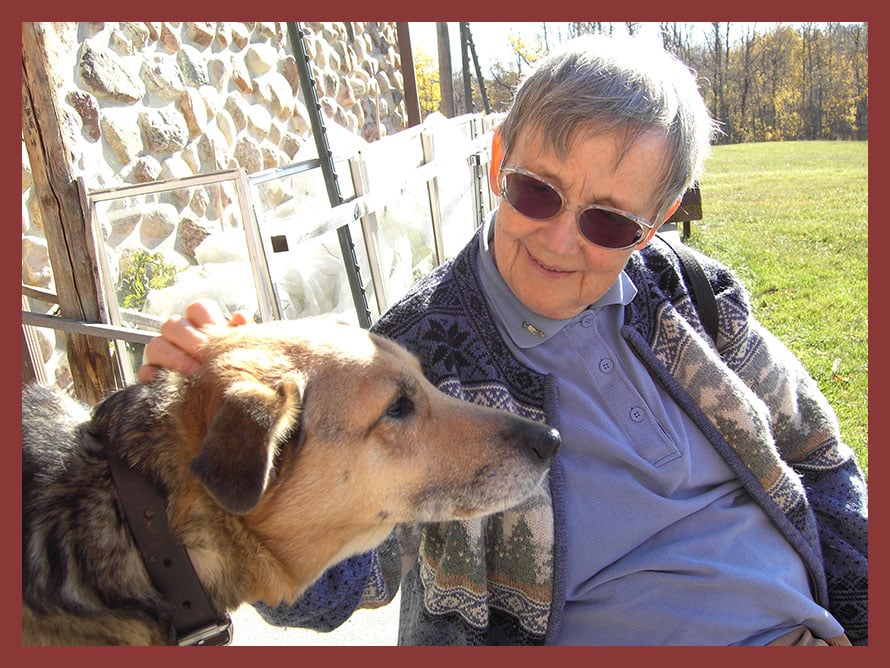 Leni Gustava Honsaker, née Grotefend
Leni passed away 24 January 2017 in Tofield, Alberta.
She was born in Germany 16 May 1934; in the university city of Goettingen. She came to North America with her husband John in 1956. After living in the US in Pasadena, Los Alamos, and Chicago, she came to Canada in the Centennial Year of 1967.
At the Grant MacEwan College in Edmonton, she learned to be a library technician, and then worked in the Boreal Library at the University of Alberta. Later, she worked with University botanical collections in the herbarium, and preparing geologic fossils millions of years old.
After retiring, she lived in rural Strathcona County, Alberta, enjoying nature and wildlife in the area. There she could also express her love for her pet dogs and cats. Trips to the Rocky Mountains were always a pleasure, including some hiking and mountain climbing. She was proud to act as house mother for the Youth Hostels in Jasper. Other travelling went to many interesting places between the Galapagos islands in South America and Russia.
There was always time for her hobbies of artistic sewing and stitching. She was known as a Friend of Early Music, especially 18th century Baroque music. She was a great supporter of the Alberta Baroque Ensemble, and the International Handel Festival based in Goettingen.
Leni celebrated 60 years of marriage to John in 2016. Beside her husband, she leaves four nieces in Germany and two sisters-in-law in the US.
A Celebration of her life will be held at a later date and announced through Trinity Funeral Home.