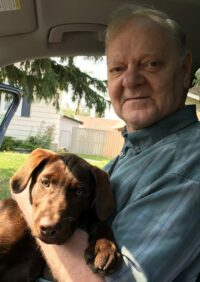 Leonard Joseph Paul Renaud
November 19, 1946
-
May 18, 2023
It is with great sadness that we announce the passing of our great husband, father and grandfather Len Renaud on May 18, 2023 at the age of 76.
He leaves behind to mourn his loss his family; his loving wife of 55 years Sandra and his children: Janelle, Michelle and James; grandchildren:>Samantha (Cutis), Dylan, Zachary, and Nathan (Beth); great grandchildren Selena, Mikayla and Melissa, and his grand puppy maverick and his grand kitty Boo Boo. Len is also survived by three sisters: Lillian Fortier, Cecile (Darel) Small and Leona (Stan) Sass and sister-in-law Mariena Renaud.
He was predeceased by his son Paul and two brothers: Roger and Denis.
In November 2003 Len suffered a severe stroke which left him with limited use of his right side and aphasia, the inability to speak. The last 19 years were challenging for him, but in true Len fashion, he always had a bright smile and a big hug for all those he encountered.
Cremation has taken place. We will be having a memorial service later in the summer and we will post details soon.