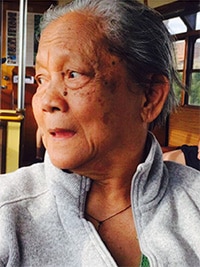 Leonila Tiamzon Buensuceso
July 29, 1939 - April 12, 2018
It is with great sadness and heavy hearts, that the family of Leonila Tiamzon Buensuceso announce her peaceful passing surrounded by family and love on April 12,2018 at the age of 78 after being diagnosed with liver cirrhosis in January 2016.
Leonila is survived by her children Leda (Rey) Manlapaz, Edmonton, Romeo (Venus) Buensuceso, Philippines, Ruben Jr. (Josie) Buensuceso, Philippines, Noel (Dina) Buensuceso, Philippines, Lyn (Henry) Centeno, Philippines, Lilia (Enrico) Tiodin, Philippines, Leny (Samuel) Orbase, Philippines, Nino (Michelle) Buensuceso, her youngest surviving brother, Alfredo Tiamzon, numerous grand and greatgrandchildren, nieces, nephews and friends.
Leonila was predeceased by her parents Pedro Tioleco Tiamzon and Virginia Dungca Zapata, brothers Patrocinio Tiamzon and Abelardo Tiamzon.
Leonila was born July 29, 1939 in Pampanga, Philippines where she grew up into a vibrant, smart and beautiful young woman. Always with a smile. Leonila was married to Ruben Buensuceso in November 28, 1965 at Florida Blanca Church. She raised eight beautiful children while Ruben worked abroad in hopes to provide for their growing family.
Leonila was a caring person who did not differentiate between family and friends. Her heart was always open to those who needed her, and she never was the one to complain about anything. She was mom and grandma to many more than her own children!
Leonila will be lovingly remembered and deeply missed by her family.
The family wishes to extend their sincere gratitude to the Misericordia Hospital where Apo "grandma" always had revolving visitors. Their support, care and compassion during this difficult time was second to none and allowed Apo to pass while being surrounded by family and love right to the end.
Celebration of Life
10:00AM Thursday April 19, 2018
Trinity Funeral Home
10530 -116 Street Edmonton, AB