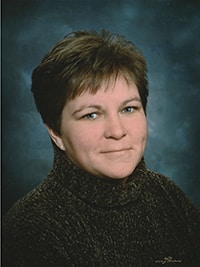 Leslie Carol Douglas
On May 25, 2020 Leslie Douglas left us too soon at the age of 58. Leslie grew up in Vermilion, Saskatoon, Lethbridge and Calgary before returning to Edmonton, the city of her birth. She lived much of her adult life in Beaumont. Following her graduation from NAIT in 1983, Leslie began a career that spanned four decades in Diagnostic Imaging at the University of Alberta Hospital (UAH). When not at work, she was a hard-core sports fan and in her younger years she was an avid competitor in basketball, hockey and fastball.
Leslie is lovingly remembered and sadly missed by her family and friends. She was predeceased by her father, Morley Douglas (2012). She is survived by her mother, Emily Douglas, her brother Mark (Shirley) Douglas, her sister Kristine (Len) Ouellette, her nephew Colin Ouellette, niece Keltie (Kane) Lambert and nephew Russ (Jocelynn) Mann. Leslie is also remembered by her Turner family, especially by her sister Jodi (Wendell) Christensen, niece Jennaya and nephew Austin. Leslie was predeceased by Halleen Turner (1996) and Dale Turner (2001).
Leslie invested tremendous energy in the community she knew as the University of Alberta Hospital (UAH). The outpouring of love, care and concern by many friends and colleagues was truly appreciated in Leslie's final months - whether it was to cajole her into an MRI, text her daily, or dropping by with flowers, baking and other gifts. In addition to the UAH, Leslie and her family greatly appreciated the palliative care teams at the Leduc Hospital, General Hospital, home care and Unit 43 at the Grey Nuns Hospital for their loving care on her final journey.
Leslie was a passionate dog lover and had many canine companions throughout her life. She felt the loss of Beau in February. Chloe misses Leslie every day. Leslie requested that in lieu of flowers, people consider a donation to Second Chance Animal Rescue Society (SCARS) or Zoe's Animal Rescue. A private service will be held at a future date.