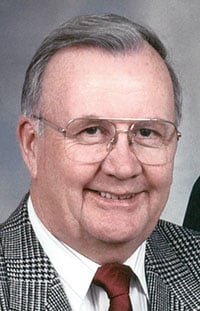 LeVerne (Vern) Joseph George
August 15, 1934 – March 30, 2019
With great sadness we announce that on March 30, 2019 Vern passed away at The Wetaskiwin Hospital after a brave battle with cancer.  A loving husband, father, grandfather, great-grandfather, brother, uncle and friend. Vern is survived by his loving family; children, Bill (Colleen) of Usona, Marlene of Sweden, Roger of Edmonton; grandchildren, Tony (Christy), Tyler (Lindsey), Devin (Lisa), Danielle (Brad), Scott Ekman of Sweden; great-grandchildren, Charley, Khale, Carson, Miranda, Kylie, Emmett, Emily, Macy; brother, Dwayne; as well as numerous nieces, nephews and many cherished friends. Vern was pre-deceased by his wife of 45 years, Rosemarie (2001); parents, William and Ila George; brother, Jerry; sisters, Patricia Budd and Janet Coates.
In his passing Vern fondly remembered his grandpa and grandma Anton and Barbara Hougestol, along with his uncle Roy Hougestol who he lived with and raised him during his early years to the age of 7.
Vern will be remembered as a family man known for his values of hard work and respect. He understood that there was dignity in hard work. He had an abundance of common sense and was a good judge of character.
He had a career in the tire business which was life long, 40+ years, successful, and perhaps legendary in many ways. He had started working at Gleason tire which became Western Tire and Battery, then Civic Tire and lastly he managed Tire Town. In the Wetaskiwin market, at that time, Tire Town under Vern's management was a premier and dominate Wetaskiwin business.  Vern's name was synonymous with the Tire Town brand. Through the tire business and his long life in the area Vern came to know countless Wetaskiwin residents and area farmers.
Personally and in business Vern was a strong supporter of the community sponsoring and donating to many worthwhile causes, sports and functions like baseball, hockey, curling, 4-H, carnival, stock car racing, golf, rodeo and wagon races, police, fire and agriculture. Vern was a member of service clubs like Kinsmen, K-40's, and the Fire Department. He received several awards over the years for his contributions to the community. He was a co-founder of the North Am Snowmobile Races, held in conjunction with the annual winter carnival, which at the time were the largest snowmobile races in North America.
Vern's personal interests were many and diverse and over the years he actively participated and followed a diverse field of sports. Some of which were baseball, hockey, curling, golf, snowmobiling, motor dirt bikes, camping, ATV's, horses, watching rodeo and wagon races. Vern's grandchildren were the light of his life and his everything. In retirement he also enjoyed a return to his agriculture roots, which he really never left, helping out friends and family on the farm.
Vern's life was full, active and a life well lived.
A special thank you to Vern's dedicated friends who were able to visit him in hospital adding quality to his last days  and making them more enjoyable than they might have otherwise been.
Celebration of Life
11:00AM Thursday April 18, 2019
Calvary Baptist Church
4910 Northmount Drive, Wetaskiwin, AB