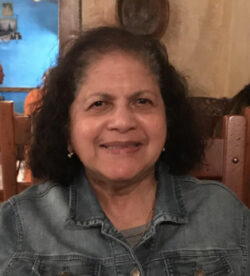 Lilani Catchick
December 1, 1944
-
December 13, 2022
Lilani Catchick, 78, of Edmonton, Alberta passed away on Tuesday, December 13th of natural causes.
Lilani was born in Sri Lanka in 1944 to Susan and Norton. She went on to have 4 children with Susiri - Mihiri, Chandra (partner Barry), Harsha and Susitha (partner Michael).
She went on to be a Montessori teacher's assistant.  She enjoyed playing the piano, listening to Jim Reeves and spending time with her family.
In 2010, Lilani retired and spent her time traveling with her children and grandkids Jordan, Elara, Hiru and Kavi.
Lilani was predeceased by her parents Susan and Norton and brothers Palitha and Nalin.
She is survived by siblings Chito, Anilal, Shirani, Rohan, Sarojini, Ranil, Rohini and Mano.
In lieu of flowers, the family requests donations be made to https://covenantfoundation.ca/, an organization that greatly helped Lilani in her last days.