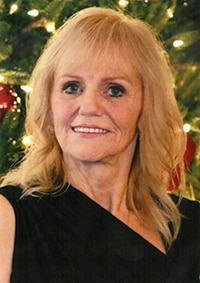 Linda Cisecki Pavitt
October 3, 1952 - September 30, 2019
It is with much sadness that we say goodbye to our Mother and Grandmother, Daughter, Sister, Aunt and friend, Linda, who passed away peacefully surrounded by her children on September 30"', 2019 at the age of 66.
She is survived by her Mother and Partner in Crime, Doris Iris Pavitt. Her loving and devoted children, Darren (Shelley) Schwarz, Danny (Amanda) Schwarz, Corinne (Jaime) Thibodeau, Carolyn (Kevin) Doryk, Ted (Anita) Cisecki and Tammy (Troy) Cisecki. As well as numerous family members and friends.
Most importantly, Linda's pride and joy, her grandchildren and great grandchildren, Karisa, Raelyn, Pamela, Christopher, Joshua, Payton, Jayna, Cohen, Christian, Trenton, Tayah, Teagan, Luna, Karsen and Kaylee. All of whom brought a world of happiness to their Grandma.                                                       
Linda is predeceased by her Father Stanley Ronald Pavitt and her beloved Husband, Mike Harry Cisecki.
Linda was born in Oxford England on October 3, 1952, and at the age of 11 she moved with her family to Canada. Living in different towns and cities for most of her life, she had a sense of adventure, even taking part in a Demolition Derby! Her spontaneity didn't end there, as she loved to travel at any chance she got. She traveled around world with her husband Mike and continued to do so well after his passing, creating amazing lifelong memories. Living in Africa was just one of the fantastic adventures she experienced. Linda was also very accomplished, graduating with her MBA in Certified Management Accounting while raising a family was an incredible feat! She had a long career doing what she loved. Linda also had an amazing talent for sewing, especially quilting. Her passion and creativity created some of the most beautiful quilts ever and of course she continued to do so up until just days before she passed. Linda always said she had lived a full life, and life was more fulfilled when her grandbabies came into the picture. She adored them and any chance she got in supporting them at their dance recitals or hockey games, she was there as their biggest fan! Linda really was an exemplary Grandmother and truly the best anyone could ever ask for.
"Our Mom is now resting peacefully after a long battle with ALS. We are sad beyond measure and will truly miss her. We will forever treasure her humor, guidance and strength. Her love and devotion will forever live in each and everyone of us. We love you Mom."