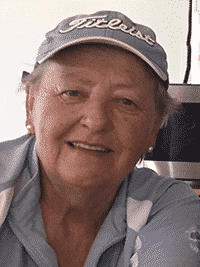 Linda Jane Gallacher
The Gallacher family announce the passing of Linda Jane who was a beloved wife, mother, grandmother, sister, aunt, and friend on November 5, 2019 at 69 years of age.
Linda is survived by her loving husband Ed of 46 years; three children Tricia Schaelow (Tom), Tim Gallacher (Angie), and Katherine Gallacher (Darren); grandchildren Riley and Kiera Schaelow, Alexis Gallacher, and Hunter Bartholow; brothers Rodney and Perry Smith, and sister Debbie Sherbrooke; as well as many nieces and nephews, extended family, and dear friends.
As a young woman from Saskatchewan Linda had a desire to pursue a career in data entry and so she headed off to Edmonton. Here, she began her career at AGT and met her future husband, Ed. Soon enough they wed and began their family.
Friends and family remember Linda was the life of the party (and always will be) and always stayed active in her communities though volunteering, being a long time member of both McLeod Community League and CN Ladies Curling, acting as a board member for Highlands Lawn Bowling, getting crafty with the stamping ladies, and spending Sunday afternoons with her husband playing the races and hosting family gatherings.
The family would like to extend their sincere thanks to the Northgate GM family, her lawn bowling community, and every person who contributed to Linda's life.
Memorial Donations
In lieu of flowers, donations may be made in Linda's name to any of the organizations she was a part of.
Celebration of Life
To be announced at a later date.